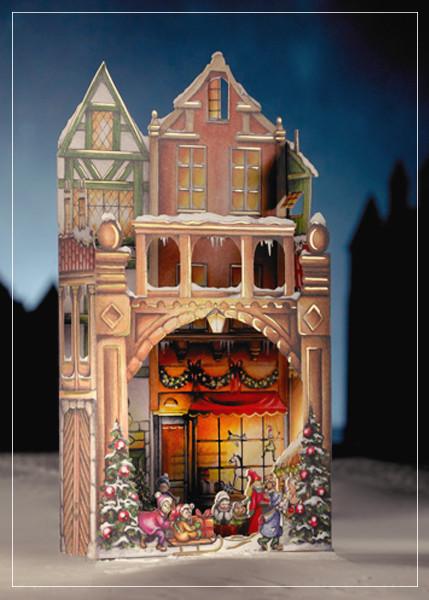 Christmas Market
DKK 59,95
In stock
Description
Beautiful Christmas greeting card picturing a market filled with that lovely Christmas spirit.
Inside the A5 greeting card there is ample room for your holiday wishes, and a 3D paper cut of the Christmas market. The inclosed 3D paper cut is easily unfolded. Just flip the sides of the paper cut together, and it will stand. The paper cut can be folded together and reused for Christmases to come.
This greeting card will bring joy to the recipient as a result of your holiday wishes as well as from looking at the beautiful 3D model of the Christmas market. Place the unfolded 3D model on a mantelpiece, a windowsill or anywhere else to spread some Christmas spirit.
Contents:
– A5 card with picture of the Christmas market on front and blank pages inside
– Laser cut paper copy of the Christmas market to be unfolded in foil pouch
– Folding Instruction
– Envelope
– Address Label (White)
Sizes:
– Envelope: 230 x 165 mm.
– Greeting card: Double card A5
– Decoration unfolded: H: 18 cm., W: 9,5 cm., D: 3,5 cm.
– Weight: Total – 42 gr.