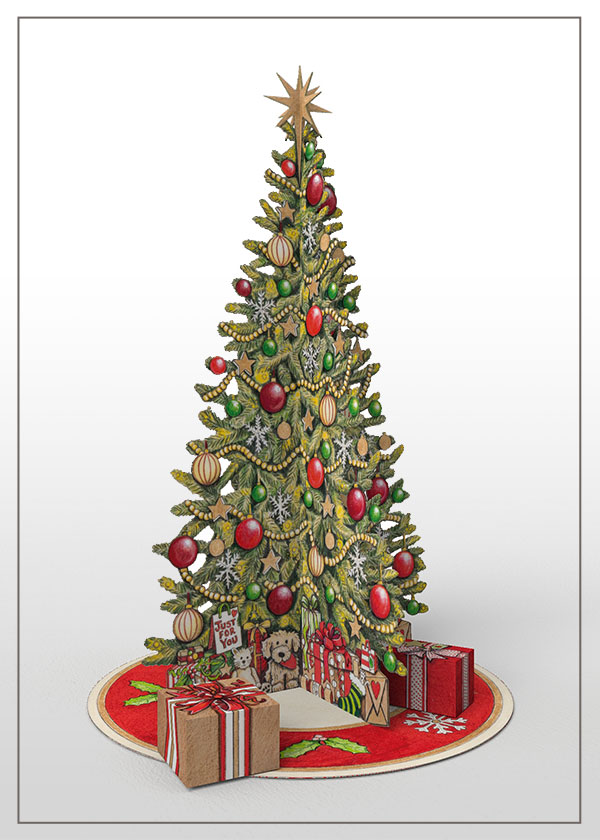 Christmas Card – Tradition lives – English cristmas tree folding card
Handcrafted 3D card
Detailed illustrations
36 cards in each display
Easy setup disk display
Card for writing included
Envelope included
Laser cut
Ducklingcards was established in 2005 when a lifelong interest in creativity and design coincided with a great fascination with the market for greeting cards and a unique technical opportunity to produce the near-impossible. The result was a completely new way of conceiving greeting cards.
New electronic media continue to appear, but a personal greeting remains much more intimate.
In designing our cards, we look for expressions that have a universal appeal and which – in all modesty – are just as pure and universal as Hans Christian Andersen's fairy tales. At the same time designs must have a level of detail that will make children gape and turn adults into children again.
Handcrafted the old fashioned way.
All cards are handcrafted and meticulously tested before production; then laser cut using the latest technology that allows even the finest details to come to life.
Kontact us at info@ducklingcards.com or use the contact form to get more information about our range of Cristmas and Greeting cards
The cards are delivered in beautifull decorated displays containing 36 cards
Ducklingcards are delivered in a simple to assembly display made to fit your disk. Each display is decorated with illustartions matching the card and contains 36 folding cards with extra card for writing and envelope
---
Find other christmas cards