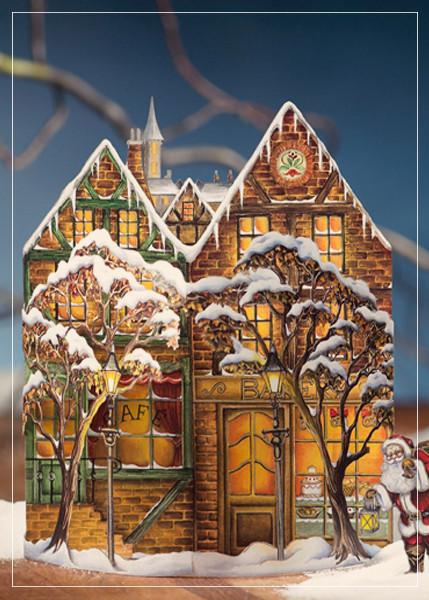 Christmas Town
DKK 59,95
In stock
Description
This 3D Christmas card pictures small houses dressed in snow. In front of the houses you'll see Santa standing with his sack tossed over his shoulder. It's almost like Christmas Eve with Santa coming to town, and with his sack full of presents for the little ones sleeping tight in their beds – awaiting that special Christmas morning.
In addition to the beautiful picture on the front of the card, you'll find a foldable version of the image inclosed inside the card. Because of the detailed laser cut paperworks, the inclosed foldable creates a stunning 3D effect. This will make a nice Christmas decoration. As a result, your holiday wishes as well as the inclosed foldable paperwork will bring double joy to the recipient of this Christmas card.
The foldable is cut with many fine details, and folds up easily. Just simply bend the sides, and it's ready to place and spread some Christmas spirit. The accompanying figure of Santa is placed besides the card.
This 3D Christmas card serves as both a greeting card as well as a Christmas decoration. The foldable paper cut card can be folded together and reused.
Contents:
– Card with glossy paper front with picture of the Christmas Town setting
– Neutral white inside of the card for writing
– Laser cut foldable Christmas Town setting in a foil pouch
– Folding Instruction
– Envelope
– Address Label (White)
Sizes:
– Envelope: 230 x 165 mm.
– Greeting card: Double card A5
– Decoration unfolded: H: 17 cm., W: 13 cm., D: 6,5 cm.
– Total weight: 42 gr.